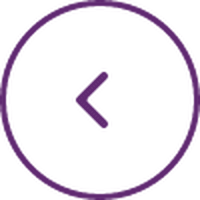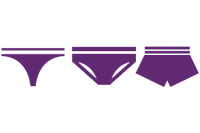 Period Panties
What are period panties and how do they work?
Period panties are washable and reusable sanitary pads that absorb blood flow during menstruation. They are the perfect alternative to tampons and pads. This underwear allows you to preserve your feminine side and combines innovation and comfort. The bottom of the panties is composed of thin ultra absorbent, anti-odour and waterproof layers, which provides ideal protection.
Find out more about our products here!
How do I wash my period panties?
We recommend that you wash your panties twice before using them for the first time. To care for them, you must rinse your panties with cold water as soon as you take them off. Then wash them at 30° without using fabric softener and let them air dry.
How long can I wear my panties for?
The period panties can provide up to 12 hours of protection in a row, depending on the flow of your period.
What is the absorption capacity of the different period panties?
Depending on the level of flow you have, undiz offers several levels of absorption:
- For medium flow: Opt for the jersey tanga brief ideal under jeans, guaranteed to be trace-free, or for the recycled microfibre and lace waistband brief for a feminine look even during periods! They can absorb the equivalent of 2 regular tampons.
- For heavy flow: Opt for the high-waisted microfibre cheeky with lace inserts on the sides or for the cotton elastane boyshorts with a wide undiz band. They can absorb the equivalent of 3-4 regular tampons. Find out more about our panties here!
Find out more about our products here!
How many pairs of panties do I need for a full menstrual cycle?
The length of your cycle, as well as the volume of your flow, is specific to each person, so we recommend 3 or 4 pairs of panties in an ideal situation. This will allow you to rotate throughout your period.
How are our period panties made? Are they environmentally friendly?
Our Undiz panties are made mostly of environmentally-friendly materials with 95% organic cotton or 83% recycled polyamide.
Do you recommend certain styles of panties for night or day?
No! All of our panties have been designed to provide up to 12 hours of continuous protection, day and night.
Can we wear our period panties while exercising?
How do I choose my size?
The panties fit normally, so choose your usual size.
Is there any risk of leakage?
Choose period panties according to your flow, if you do not exceed 12 hours of use, there will be no risk.
Does the period panties generate odours?
No, we've thought of everything! An ultra-absorbent cotton layer provides a dry feel and eliminates odours.
Are my period panties good for my health?
Period panties will always be healthier than other disposable sanitary pads. Since they stay outside the body, they do not interfere with the vaginal flora and therefore there is no risk of toxic shock!